Making positive lifestyle improvements and keeping track of the symptoms of chronic conditions to help you manage them better can be much easier with the help of an app.
Here we round up seven of the best.
Migraine Buddy is an advanced migraine diary and tracking app, designed with the help of neurologists and data scientists. It's had more than 1 million downloads and is rated as the best Migraine App by both patients and doctors.
The app allows you to record the frequency and duration of your migraines and pain location and intensity. You can also record symptoms and medications. The app can help you to identify migraine triggers.
Migraine attacks are recorded on the dashboard including start and end time and details of the attack (like pain level, location when your migraine began, and potential triggers). The app also records any signs that presented before the attack, migraine symptoms, medication taken, relief methods that you used, how your migraine affected your daily tasks, and a head map to select the area of your pain.
After entry, the dashboard shows you how long you have been attack-free. The record of your attack is stamped on the calendar and can be accessed through the records section. The reports dashboard gives insights about your migraines and factors that could be linked.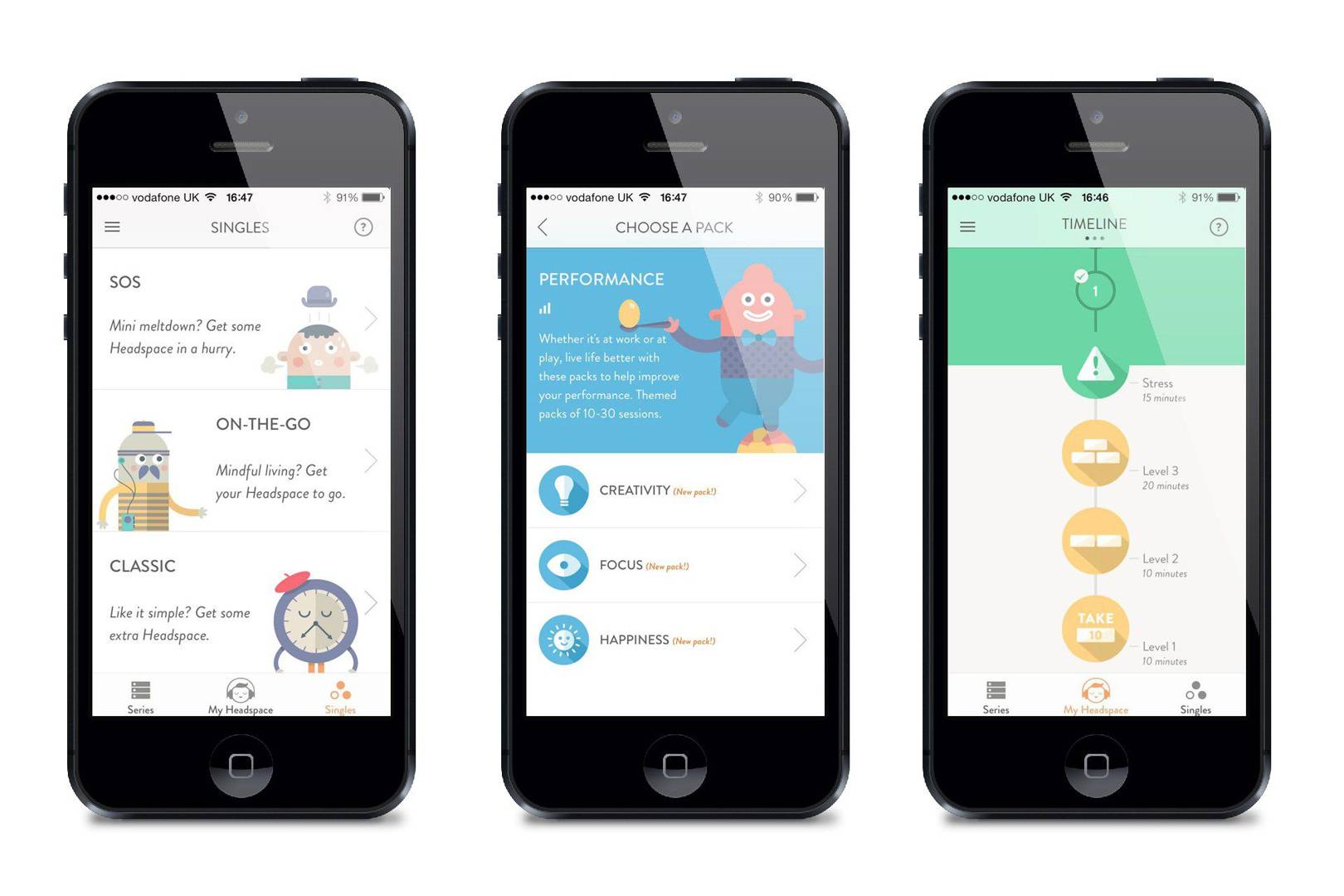 Headspace is a meditation and sleep app that can help you focus, breathe, stay calm, perform at your best, and get a better night's rest. It helps you develop skills of relaxation, meditation and mindfulness which have been proven to have a whole range of mental and physical health benefits.ust sit back, relax,
There are exercises on everything from managing anxiety and stress relief to breathing, happiness, calm, and focus. If you've never meditated before there's a free Basics course that will teach you the essentials of meditation and mindfulness.
In the Sleep by Headspace experience, you'll find sleep meditations, sleep sounds, and specially-designed sleepcasts to guide you to a place of rest. Sleep by Headspace was built around the needs of restless sleepers so the screen is darker and the buttons are easy to find. It's perfect whether you have trouble falling asleep, or you wake up in the middle of the night.
If you often wake up feeling groggy and unrefreshed then Sleepcycle could be a great app for you to try.
It's like an intelligent alarm clock that tracks your sleep patterns and wakes you up when you're in light sleep. When you wake up during light sleep you're more likely to way to wake up feeling rested and energized.
As you sleep, you go through different sleep phases, ranging from light to deep sleep and back again. The sleep phase you are in when your alarm goes off is critical for how rested you will feel when you wake up.
While you sleep, your movements vary depending on what sleep phase you are in. Sleep Cycle's sound technology tracks your sleep patterns using sound or vibration analysis (you don't have to install it on a wearable for it to work). The app then finds the optimal time when you are in light sleep to wake you up in the morning, during a predefined 30 minute time window that ends at your set alarm time. Waking up in light sleep feels like waking up naturally without an alarm, leaving you feeling rested and energized.
Kaia is the first medical exercise therapy app that aims to relieve back pain at home. It can Kaia plays an active role in the effective and natural treatment of your back pain, guiding you through every step.
The app offers individually personalized guidance: whether you are a beginner or consider yourself an athlete – the exercises adapt to your fitness and pain levels via intelligent algorithms.
The daily training sessions take just 15-30 minutes and don't require any special equipment.
Studies of Kaia users show an average pain reduction of over 40% and there's evidence that the use of the app can help prevent new back pain episodes from becoming chronic. As well as offering practical steps and exercises Kaia is educational (increasing your knowledge about back pain) and motivational.
My pain diary is an award winning app which makes it easy to track your pain and symptoms both for your own use and to report to your doctors or clinicians. If you have a chronic condition, or even multiple conditions, it can be a real challenge to keep track of your symptoms or to remember how you've been since your last appointment. The my pain diary app makes it easy for you to keep track which can give both you and your healthcare professionals valuable insights into patterns and potential management strategies for your pain or other symptoms.
The app is completely customizable to suit your specific tracking needs; you can track as often as you and record as much data as you need.
MyFitnessPal is a great companion app if you want to make positive lifestyle changes or follow a specific fitness-related plan. It can help with goals including weight loss, toning up, and improving your overall fitness. The app can integrate with your other health apps and scan food barcodes to gather nutrition information.
The app is highly rated by users but its focus on nutritional values and calories as well as exercise targets might make it better suited to someone who is already somewhat engaged in a fitness plan and finds targets like these to be motivating rather than oppressive.
As the name suggests Happify aims to increase your happiness! by helping you overcome stress and anxiety and building your resilience so that when life is challenging it doesn't affect your wellbeing so much.
Happify was jointly developed by scientists and game designers and uses games and exercises to help you change your habits towards happiness. It also lets you track your progress over time which as well as being motivating can help you to identify patterns and areas to focus on.